Hello Hellhoe
The Amazing World of Gumball Band Adventures Episode 7-8

Title Card

Animated By

Ivander Yuanata

Release Date

November 13, 2013 (Part 1)
November 14, 2013 (Part 2)

Making Date

January 5, 2007 (Part 1)
January 10, 2007 (Part 2)

Starring

Gumball
Tobias
Anais
Darwin

Voiced By

Tord Larsson by Tobias
Matt Hargreaves as Anais
Edd Gould as Gumball
Tom Ridgewell as Darwin


Musics

Ruder than you - Misskalculation
GranDaddy - A.M. 180
Bertha Theme Song
Rhapsody - Dargor
Inferno Town
Rhapsody - Emerald Sword
BlondeBeard's Chicken Parlor
Lesley Gore - Sunshine, Lollypops and Rainbows
Zombies Ate my Neighbours - No Assembly Aquired

Previous Video

Next Video
Hello Hellhoe is a 8th and 9th episode of The Amazing World of Gumball Band Adventures
Characters
Edit
Everyone in the Hell
Hell Peoples
Gumball, Darwin, Anais, and Tobias ready to go to the Hell
Gumball, Darwin, Anais, and Tobias going to the last tour of Hell
After Gumball brings pizza from Pizza Hut, Gumball and the gang are about to watch a movie called "Return of the Insane Zombie Pirates from Hell III". Before the movie starts, the TV screen explodes. With nothing left to do, Tobias decides to make a tourist trip to Hell. Searching on Google for the tickets to Hell, they click on a link and an elevator from Hell, a.k.a. the Hellevator appears. While waiting in the elevator for a long time, the Hellevator goes at max speed, spinning around and falling down to Hell. Once the elevator lands they head toward the tourist door. Everyone but Darwin enters because the door slams shut before he could get through. Darwin enters though another door with a sign saying Jehovah's Witnesses. The area that he appears in is a white void. Back with the rest of the gang, they start sightseeing. They see people running around being chased by monsters and visit the Sinner Squishing Room, where a devil squashes sinners with a mallet.
Murder

| | |
| --- | --- |
| Location: | Hell |
| Victim: | Everyone |
| Culprit: | Hell Peoples |
Back at Darwin, a pencil suddenly appears and draws a slide a few meters below him. It pushes Tom to fall on the slide, making him slide down the line it drew (reference to Line Rider). Back at the gang, they decide to get some food from Zombie's Cafe where everyone that works there is a zombie.
The menu contains dishes that no one would want to eat. Matt then discovers that he is on the menu. After waiting and ordering drinks, the zombie waiter brings drinks that were actually blood. Anais's drink contained a fresh eyeball. Gumball notices Darwin missing but then Tom comes out of nowhere falling on the restaurant table. The gang follows Lucifer (aka Lucy) to their "personal Hells".
Gumball's is a broken Coke machine (or a world without Coke). Anais's Personal Hell is being surrounded by 5 Gumballs. Darwin's is meeting a black space alien. Tobias's is a jukebox that plays "Sunshine and Lollipops" by Lesley Gore, no matter what button he pushes. It still plays even after he broke it. Before leaving, they buy gifts from the gift shop. The film ends with the gang leaving Hell.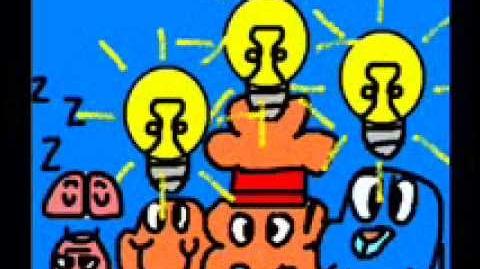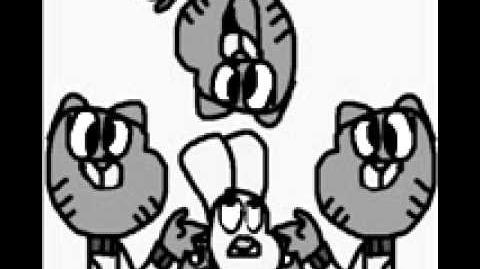 Community content is available under
CC-BY-SA
unless otherwise noted.